Project :
Sarawak Digital & Innovation
Client :

Project Brief :
Sarawak Digital is a unified brand for the digital agenda spearheaded by SDEC (Sarawak Digital Economy Corporation). Together with SDIE (Sarawak Digital and Innovation Ecosystem) we designed an awareness campaign with the intent of introducing a fresh brand to a public audience and build their online presence.
We were also assigned to help with awareness campaigns for a few projects under this department; which are SME Digitise, Crocodile Byte, and Go Digital. We made content appropriate with ad requirements.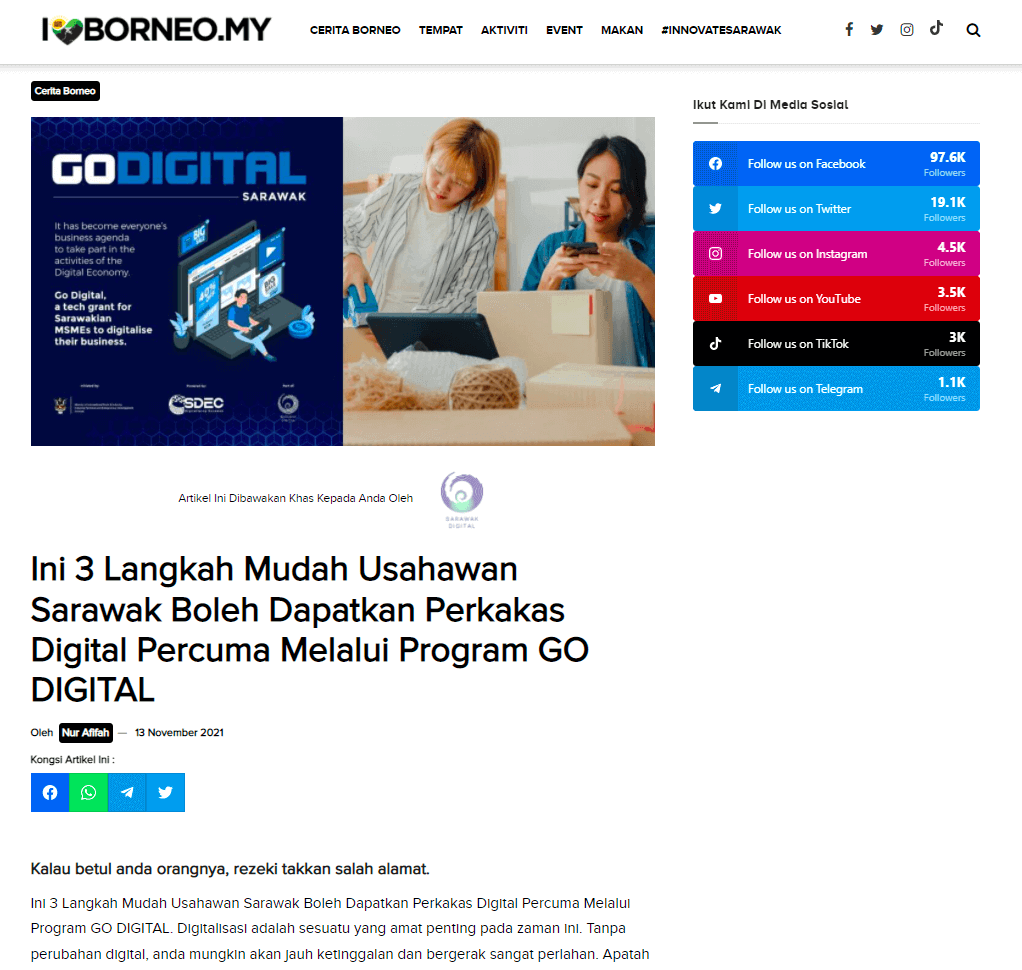 Our Solution :
Digital Marketing

Eget at sollicitudin lectus nisi, erat ac risus vel, urna. Vulputate sed iaculis vitae enim, amet faucibus sed interdum lobortis.
Social Media Management

At scelerisque ut elementum magna congue suscipit lectus. Tempor, vivamus semper amet enim nullam at eget amet. Amet mi in tempus.
Landing Page

Website Design
Leads Management System

Video Production

Branded Content

Our Work :
The awareness campaign for the Sarawak Digital brand involved Social Media Management; with the production of content. A dedicated content manager was assigned and the content curation centered around information related to SDIE, their industry ecosystem, and general events. Creative works were aligned with campaign objective, funnel design and execution via paid advertising networks such as Facebook Ads and Google Display network.
Access of their main social media accounts enabled us to use the unified micro social media reference landing page Linktree. People were able to access social media links, latest updates of programmes and our client had a shortlink available as reference.
We created websites for all SDIE programmes assigned to us. These landing pages made it easier for interested participants to access information. A lead generation form was built in, integrated with relational database platform, Airtable. This made it easier for us and our client to achieve lead management as this approach allows our clients to collect leads with complete information including their uploaded documents on 1 single dashboard.
We focused on a data driven approach with Google Analytics (GA) & Facebook Pixel integration for remarketing/retargeting to increase conversion & lower down advertising cost. Data collected through cookies in these integration allows us to further optimise advertising campaign via 3rd party AI optimisation tools for paid advertising ( FB ads, Google ads ).
We added value to the programmes through amplifying their messages via paid advertorial through our own media assets : iloveborneo.my & social media network :  I Love Kuching, I Love Borneo. Taking advantage of our large audience, our websites provided a steady stream of intended attention and reach.
Our Achievement :
0
Leads Generated
0
+
Creatives Produced
0
Landing Page Built
0
Campaign Launched
0
%
Followers Growth
More About Us :

View Our List Of Services


Our Past Work & Project

Get In Touch With Our Team :
Free Consultation

Get a 30 mins consultation for free. Our business development team will be in touch with you.
Get Quotation

Have already decide on our offering? Reach out to our business development team.
Contact Us

For any general questions that you have in mind, we are more than happy to answer!